Thoroughly under construction. It's just me and Pikachu here.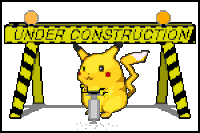 I currently have a massive pile of unfinished games and game-adjacent ephemera I have been meaning to finish and never seem to get around to. Most of them probably fall under the "Role-Playing Game" catergory; some do not. This is okay.
This website represents the most recent of my attempts to remedy that. My singular reasoning for hope that this will work better than my former attempts is that the act of making a personal website might get me in touch with a that long gone 2005 version of myself who made many things, websites included, with a much higher frequency that this current version of myself.
This is a very rough draft of a website. Currently there isn't much to see here, but I am hopeful that will change. I have ever expanding visions of what this site could eventually be and would love to share them with you.